Recommended places around Kunozan Toshogu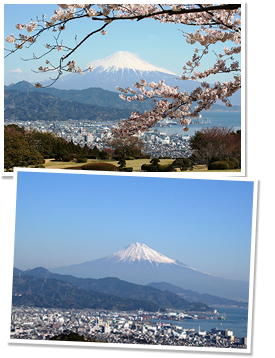 Nihondaira
See the beauty of Mt Fuji
It is said that Nihondaira derives its name from the legendary Emperor Takeru Yamato, 12th Emperor of Japan (c72-114). During a military expedition to suppress the eastern provinces, a wildfire broke out as a result of a battle at Kusanagi. After winning the battle the emperor climbed this hill and admired the views in all directions. The name Nihondaira is derived from the Emperor's name, since the Chinese characters for Yamato can also be read Nihon.
Nihondaira is a hilly area with an altitude of 307 meters above sea level. Chosen as one of the top 100 tourist attractions in Japan, it is also a scenic spot and a designated natural park in Shizuoka prefecture.
Mt Fuji was designated a World Heritage Site in June 2013. The magnificent scenery to the south of Mt Fuji includes Miho no Matsubara and Suruga Bay which also included as part of the Mt Fuji World Heritage Site. The panoramic view of Mt Fuji includes green tea fields, Shimizu port, Izu peninsula and the Southern Alps and is said to be one of the scenic views in Japan.
In 2016 the view from Nihondaira towards Mt Fuji was certified as a 'Japanese Heritage Night View' by the Scenic Night Sightseeing Tourist Convention Bureau.
For more information:http://www.nihondairakankou.com/
Access by ropeway (5 minutes) from Kunozan Toshogu: One way ticket 600 yen/Return ticket 1100 yen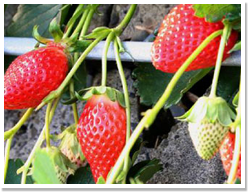 Kuno Special Product: Ishigaki
(Terraced fields made of stone) Strawberries
All you can eat strawberries in winter
National highway 150 runs along the Kuno coast facing Suruga Bay. It is commonly called Strawberry Road as strawberries have been grown on the terraced slopes of Kuno hill for over a hundred years taking advantage of the mild climate of Shizuoka.
It is said that this is the birthplace of 'strawberry tourism' in Japan. The strawberry picking season is from December to May every year. During this season there is also a beautiful view of a snow-capped Mt Fuji across Suruga Bay.
In the strawberry picking season, 'Strawberry Girls' stand on the side of the road waving strawberry shaped balloons inviting people to come and pick strawberries, which is one of the features of the strawberry picking season.
Two kinds of strawberries are popular in Shizuoka. One kind is called Akihime while the other is called Benihoppe. Akihime are big strawberries with a rich sweetness that fills the mouth from the first bite.
The picking season runs from mid December to May with prime picking season from February to April. Prices range from 1200 yen to 2000 yen,depending on the season.
| | |
| --- | --- |
| Picking season | From mid December to May with prime picking season from February to April. |
| Price | 1200 yen to 2000 yen. Price may vary depending on seasonal conditions. |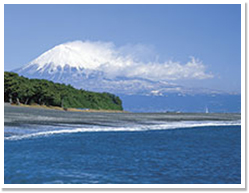 Miho-no-Matsubara
A World Cultural Heritage site and one of the most famous scenic views in Japan
Miho-no-Matsubara extends from Shimizu Port to Suruga Bay on the east coast of the Miho peninsula. It has been famous as a scenic spot from ancient times. The white-crested ocean waves against Mt Fuji in the background combined with the pine forest behind the beach are like a landscape painting. In 2013 this panorama was designated as part of the Mt Fuji World Heritage Site.
TLocal legend has it that an angel hung her clothes on the branches of a pine tree while she bathed in the sea. Local fishermen found her clothes and returned them to her only in return for an angel's dance. It is said that the same black pine tree still stands at Miho beach with its branches extending in four directions. The tree is said to be 650 years old.